Monday Morning Blues
close my eyes
against the light, shining
through window pane.
I smell
the scent of your cologne
still lingering on pillow case
Breathing in the memory of your eyes
the way you smile
and little lines crinkle
make me wanna reach out
and
just touch
If I could turn back the clock-
Before the night was over
you know the moment
Somewhere
between the slow dance and slow grind
When conversation
was over come by that rush.ssssssssssh
Just remember
I was lost in your kiss
and you didnt even notice
between the drops
catching
in your eyelashes
as you peered down at me
in the shower
on tip toe
to reach every inch of that
sensation
never mind the candle light
or that soulful jazz
that faded into the afterglow
transparent
in the moonlight

But wait
lets not go back there
as I stare around the room
its all starting to disappear
It isn't about how
you walked out the door
while I was sleeping
kissing my forehead
in that way - grazing skin
touching my hair
It was about
you never took the time to
know me-
Did you ever watch me sleep?
Did you ever rush to the kitchen..
in the morining
to make eggs just the way I liked
I remember getting up
making eggs benedict,
sauce perfect creamy
english muffin homemade
as I held the fork to your lips
I remember you closing your eyes
and breathing in the savory scent
Fresh squeezed orange juice
found at the farmers market
made into the perfect mimosa
Strawberry,
picked from the vine
juice running down your chin
I licked it away
I licked it away...
You ... took it all for granted
Me--I let you
It was about me overcompensating
for the absence of longing
you never longed for me
You never once thought I might
have wanted more
So Here I am
at the end of this night
Staring into the dawn
I roll over reaching out for the one
who never reached for me
This is the Monday morning blues
Covering my head to block out the pain
The Monday morning blues
from the pain that left me hollow inside.
Diana Rose © 2009
Hand Outstretched


What do you want?
Words ring still in my ears,
words spoken without waiting
for an answer.
But that is your way,
three steps to the right
straightaway
seeing the the shimmer of light
that fades
from the frame
a peripheral
illusion.
My wants have never been important..
my earthly transgression
is a vessel
that was shaped by necessity
its course predetermined
before you knew my name
knew my every thought
before you haunted my dreams.
You keep me coming
back here
my soul bare
writing this dance
that has broken
us to dusty fragments.
You have me pictured wrong,
in your mind
I am stalking
predator of your independence
but I am your prisoner
bound by the strands of words
we intertwined over
and over
pulling me to you
to throw me away.
I cant do this
night after night
waking to thoughts
of you
wishing my existence
to nothing
pretty words lulling me to sleep
again alone
my wants are but memory of a need
need of you.
need of connection
which is deeper than any primative lust
need of redemption
that isnt found in abandon
but captured
by just being
still water runs deep beyond
cast me away on a raft
and Ill lie
drifting
till you open your eyes
song of seabirds
faint shimmer of ocean
golden ambergine sunrise
simplicity
is at the core of reason
facing a sunrise reflected
my love shining back at you.
Is that what frightens you
that someone can love you
someone knows you
and isnt controlled
bent to your anger
you cant
I cant be broken
that has already been done
to us both
every poet has their laurel
the muse that renders them to drink
renders them to oblivion
stir the emotion to climax of completion.
or nothing
at all.


For Rik......
Diana Rose © 2009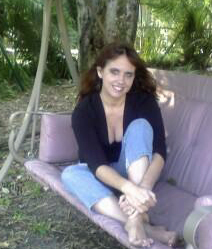 Diana Rose, "Angelheart"
About the Author

Diana has been writing since she could hold a pen. She wrote short stories, essays and entered many writing competitions long before she let the world see her poetry. It was her solace, her release from the world.
Her first feature was at Flexwriters Cafe for "One More For the Road," which was published in Alabaster and Mercury Volume One. This was her one hundredth piece on Myspace that she was really proud of.

Diana was also published with Web Digest Weekly: Sunset Upon Shadow (Death Be Your Comfort).

To date, Diana has close to three hundred pieces that are at press to be published this summer in one volume, named Moonlight and Mystic. She is working with two producers to record certain pieces to spoken word. If you live in the Orlando area, you can find her frequenting open mics around the metro area.

On Sundays, Diana has a spoken word poetry show: Angel Overload can be heard world wide in podcast on BlogTalk Radio under the Cult Vault Radio logo. Each week, she presents a new featured poet, spoken word artist or producer of spoken word and hip hop albums. The debut show launched New Years Eve 2008, and has featured reknowned spoken word artists as Ta'laam Acey, Eddie Oliver, And the founder of New Word Order Max Parthus is the feature during National Poetry Month.

Diana is a mother of four beautiful children, a Florida native, and is a graduate of Florida State University.

Her future aspirations past poetry are to write a best selling biography or two. Her sites are on muscians and artists that have made a difference in the world that haven't gotten enough credit.


You can visit Diana on myspace at:

http://www.myspace.com/angelheartwxyz

E-mail Diana at:

angeloverload_host@yahoo.com

Click below to check out Angelheart's Blog Talk Radio Show, "Angel Overload":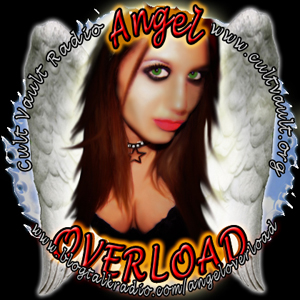 Moondance and Mystic

When we were young,
the night was our playground,
Fireflies darted through hedgerow
crickets made symphony of song
in tune with the loon
settling
in soft winged adagio,
chasing me
through dew soaked field of clover
time stood still.
You caught me
breeze catching sheer organza
wafting
patterns of delicate
taking sail around the moonlight
casting me into your arms.
Your eyes
caught the starlight,
they shown with far off constelation
ribbons of comet tail
firey in their intent
the moondance among falling star,
your wish whispered against my neck,
lips grazing the curve
of my shoulder bare to your touch.
Starlight irredescent,
sprinkled the sky
aglow with diamond tears,
cascading
in brilliance of the shadow of your smile.

You hummed Van Morrison,
moondance and mystic,
under tender crescent moon,
the sound of your heart
kept time
under your mother's tree
branches the cover
from the canvas of night.
with the silent waltz
in the still of the night
I was yours.
Diana Rose © 2009

Meet Me Halfway

Fly me to the moon,
meet me halfway
between the starshine
and the sun stream
it is a current
electromagnetic illusion
stronger than pride
stronger than lust
drizzle me with chocolate
sprinkled with confection
you wont need a spoon
Im waiting
for you to realize
that those standing
in front of me..
could be defining
the Peter Principle
with their vacant eyes
and their bow shaped mouths
not feeding your soul with
inspiration
not feeding your mind with
creativity
I need that... I need you.
You are my secret sin..
that I wish to cover in
a rainbow of Skittles
and lick them off one by one.
You are my flirtation in the
darkest hour before dawn
the one that leaves me
waiting
longing
standing in the middle of desire
wondering why you can't just
come to the point,
Ill meet you halfway
but where is that?
what is your half?
Is it found at the state line,
yellow dotted measure
a hundred miles from
nowhere or anywhere
will you kiss me like that?
Like that poetic ramble
that you meander
leaving a trail of sweat
down the nape of my neck
Halfway
Ive fallen
in the want of you.
And what do you say to that?
Halfway
wont do any longer.

Diana Rose © 2009
imprisoned
Miles of metal bars
line the distance between,
you entrapped my heart
in a snare of metal shears
snipping carefully
with barbed words
that bled my ink dry,
you know not what you've done.
Ive come undone.
Strung here
high in the dark of night
neck bent back
to knee
pulled
in vice like precision
magnetism
is deadly
when love grows cold.
I am but a ghost
aparition stuck in time waiting,
wind blowing
me like a rag doll
a sheer white linen
on a line of metal of your choosing,
a prisoner
to your words
they float into space
where I hang
dangling
by shreded skin
I stopped feeling the pain
tears created
a lake of solace
under shrouded form.
Ripples in black water
created by drip
by drip
the life of my soul
leaves
float endlessly
brittle as bones
back to your outstretched hand
you never meant for me to see.
Blink
and it is gone.
as I remain
hanging
under midnight sky
waiting for truth
you'll never speak.
you'll never believe
the mist of the poets moon
the light in my eyes
that shone
only for you.
my
words
pulled from your muse
pressed against glass divide
fingers
left ghost breath impression
a murmer
drift
to blood red moon
crescent
where your kiss
drew my very soul.
exhale
and the trace on the glass
is the outline
my heart left.
The heat between
everlasting
and unsung.
Diana Rose © 2009
Blame it on the Radio


I will never forget that moment
the way the air smelled
after a sudden spring shower
that left a shine on the road
The wipers on my car
as the radio played
and I hummed
absently watching cars.
We had never met....
but still waters lie deep
and you had wrapped your words
around my heart
and I rowed
with a broken oar
to find the truth.
Chemistry is a different truth
it ignites passion and
radiates a beacon
to lead you through fog
and rain...
and drive till your car wont go
anymore.
Then you stop lost and confused
listening to the radio
as you pray he finds you
before the song ends...
Out of the starlight
you walked through the drops
The words are on mute....
All I feel are your arms
pulling me close
Your eyes
touching me to my soul
And your lips
that claimed mine .


Was it a dream.....
In that moment I was alive....
Anxious, tongue-tied, and twisted,
A smile that wouldnt fall away
I couldnt stop feeling your skin...
Drinking you in
The smell I carried home with me
that lasted three days...
Unforgettable
Where does the music go
after the first kiss fades?
Can you find that road...
the one with the ferris wheel
and the lone saxaphone
stardust
moonlight
headlights
that never are brighter than the light
of your words
the fire of your kiss
And I could drive all night
to find him again.
Never as good as the first time
with
a
lingering glance
a carress of your tongue
my heart was left
on that merry go round
Spinning and reeling
I walked
away
never the same.
Diana Rose © 2009


Beyond A Shadow of A Doubt

Beyond a shadow of a doubt
I know you still think of me,
We had that kind of love
that could be charted
the velocity it shot
like the splitting of an atom
hotter than the brightest sun
but froze as quickly
as the arctic breeze
Absolute zero...
absence of all things possible,
I don't begin to trust in signs,
you lay out signals
cloaked in disguise
A magic carpet ride to eastern sunrise
riddles and schemes to haunt my dreams
shall I rub the lamp
and make three wishes?
I hear you,
burrowing deep in the soil
of regret,
a mole able to see in pitch black
forge his way on
beyond the vantage point
I hear you
and I patiently wait
for your words
to float with me
on wings once more.
Diana Rose © 2009