Red Lanterns

Oh, how they kiss the winds
With a cultural embrace.
A harmonious balance
Alights the promenade
Feng Shui.
An escape to tradition
A journey of peace
And silent affirmation.
The cleansing of spirit and home.
Red Lanterns
Await the dawn
Of the Lunar New Year.
Gong Xi Fa Cai!

Joanne Olivieri © 2008

Another In Your Arms

Yesterday
when our eyes met
that playful grin
enveloped me
as always.
Another in your arms
as I knew
it would be
made me
want more of you.
Those few minutes
we shared
the flirtatious
escapade
made me realize
how happy I am
this is not love but lust.

Joanne Olivieri © 2008

Yearning

My lips silent
Emotions permeate thought
Love stands still
Unrequited.

My eyes wander
An intimate gaze
Time sits bare
Not noticed.

My fingers tremble
A sensuous touch
Fades...

My heart
stunned by you.

Joanne Olivieri © 2008

Tranquility

Beyond darkness
within light
lies the key
to acceptance
one with spirit.

Ego absentia
authentic truth
caress the soul
awakening.

Joanne Olivieri © 2008




Click to Visit Joanne's Modern Poetic Page




Joanne currently publishes the Ya'Sou!
Online e-zine which you can visit at:

Ya'Sou! Online E-zine



Click below to view Joanne's column for
Raintiger Magazine, called "My Ode.":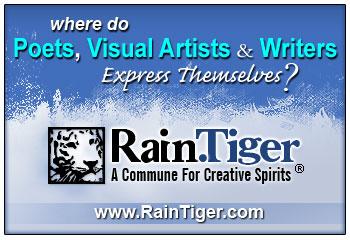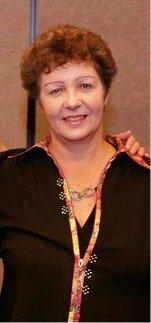 Joanne Olivieri

Joanne Olivieri is a gifted poet who was born, raised in and currently resides in San Francisco, California. At age ten, her mother bought Joanne her first book of poetry called Speak Nature by James Walker, which was a series of nature poems in traditional rhyme and meter. She fell in love with poetry after reading this book and took it everywhere with her. She remembers sitting in a civics class in the 7th grade, bored to tears, when she penned her first poem entitled "One." She's been writing ever since.

With no formal training as a writer, other than a creative writing class in high school, Joanne learned her craft the old fashioned way, by reading. She applauds Longfellow, Poe, Byron, Marlowe, Keats, Plath, and Angelou as a few of her many favorites. In her newly released chapbook, Red Lanterns, published by Shadows Ink Publications she writes a modern day free verse tribute to Longfellow's poem "The Day Is Done."

After an impromptu vacation in Hong Kong visiting her friend jazz recording artist Sony Holland, for whom Joanne works as a personal assistant, she returned back home completely inspired by her journey, and as she puts it, "the creative flow was definitely flowing for over two months. I simply could not stop writing." The result? Red Lanterns was born. Joanne derives her inspiration from nature, music, cultural diversity, and anything that profoundly touches her spirit. Joanne's second chapbook of poetry, "Serenity," speaks with the mind, the body and the spirit in a reflective journey to authentic self. A coming into your own realization of purpose and passion, this book offers a compilation of poetry and stories shared with serene mind and peaceful spirit. Serenity debuted in March 2007.

Joanne's passion for poetry prompted her, in memory of her mother, to create Ya'Sou! Ezine as a showcase for poets, writers, photographers and artists to display their work and find a home for their creative talents. Ya'Sou! is from the Greek language meaning "To Yours," and is used as a toast to celebrate special occasions. As Joanne explains, "Ya'Sou! is my way of giving back to the community, doing what I love to do and paying tribute to my Greek heritage and to my Mom who always encouraged my writing."

Joanne has been writing for over 30 years. Her poetry has been published in various print and online publications, such as The San Diego Arts and Poets Magazine, Shadows Ink Chapbooks, SP Quill Magazine, SoMa Literary Review, Things Asian Online Travel Website, Muses Review, and many more. Her photography and article, French Fries and Ice Cream were published in Tango Diva - June 2005. Her poetry has appeared in several anthologies. Joanne was the Featured Poet for January 2006 in SP Quill Magazine and appeared as Featured Author on the Shadow Poetry Bookstore page for January through March 2006. Her book Red Lanterns appeared on the Shadow Poetry Top Ten Bestseller List for the period January through April 2006 and November 2006 through January 2007. Both of Joanne's books Red Lanterns and Serenity were in the top 10 bestseller list on the Shadow Poetry site for the period of April through June 2007.

Joanne's YouTube Videos Ocean Beach San Francisco, View From Cliff House Of Ocean Beach San Francisco and Cliffs @ Ocean Beach, San Francisco have been selected for inclusion in the First Annual California Coastal Views Film Festival, hosted by Coastwalk.

Joanne is a member of The Online International Library of Contemporary Poets and The World Poets Society. Joanne wrote a regular monthly feature column titled "My Ode" for RainTiger Magazine. Her travel articles and tips have been chosen for inclusion in the VirtualTourist's soon to be released San Francisco Travel Guide. Her poem "salt and pepper" was published on celebrity Leeza Gibbon's website in April 2007. Joanne's poem "Symphony Of Lights" from her chapbook Red Lanterns was chosen as one of the 300 Short Listed Entries in the initial round of the Cathay Pacific Airways - 100 Reasons We Love Hong Kong contest for July 2007. As a result, Joanne was awarded a roundtrip ticket to HK for her winning entry.




Click below to view Joanne's Shadow Poetry Page and order her best-selling books:





Check Out Jo's Poetry Video:



Jazz Climax for Sony ~
A Tribute to The Plush Room

The room hauntingly still
with mosaic tiles staring down
upon the audience.
Pink and red lights glare
like the eye of a storm
pouncing across the stage.
Lights dim and the music begins.
Ebony and ivory notes
meld with the pounding crescendo of drums.
Hot sax man plays it high and low
while the bass hovers
a musical fog.

And the introduction!
Thunderous applause
echoes while the star
rises to the occasion.
To the nines,
dressed Out Of This World
and the spotlight dull
in comparison to her beauty.
Her voice soft,
smooth velvet whispers
shower the room
in vocal elegance.
Lyrical reverberations
echo beyond the stage
and the room full
with sultry innocence
the sass and class monogamy.
Piano man sets the tone
tickling each key
to perfection.

At Last!
As the song goes…
Sensual bluesy rhythms
fuel the senses
with hot anticipation
while the audience swoons
in wild adulation
as rhythmic beats
rise and heighten
to a point of no return –
the jazz climax.
And she takes her bow.

Encore!

Joanne Olivieri © 2008

Tai Chi

Shadows hum
meditative melodies
and hushed interludes.

Thoughts echo
quiet whispers
of serene solitude.

Bodies dance
circular escapades
in reflective quietude.

Mind, body and spirit
the sunrise triology.

Joanne Olivieri © 2008




Click on each book below to order
Joanne's Chapbooks:







"Red Lanterns" "Serenity"
by Joanne Olivieri by Joanne Olivieri




Visit Joanne's personal website at:

joanneolivieri.tripod.com



Click here to visit Joanne at her other
spots on the internet:

myspace

Book Marketing Network