My Love Sense

Love
speaks in silence
the unconditional
stanzaic interlude
between heart and soul.
Never wanting
always waiting
to give freely
and openly.

Love
does not see color
nor stereotypical
ego branded persona.
As spirit seer
pure love
accepts all with understanding
and patience.

Love
hears beyond sound
soft whispers
of heartstrings
playing in rhythm
the quiet song -
a deafening simplicity
defining uniqueness
to authentic self.

Love
tastes the sweet n sour
of daily imperfections
savoring the bitter
with the sweet.
The perfect blend
providing nourishment
for the heart
digesting the mix.

Love smells indifference
and recoils at the
nauseous self righteous
stench of the arrogant
yet embraces the
empowering odor
of forgiveness -
a scent of healing.

cool Love
touches softly
hearts who hear,
minds who see,
spirits who know
the freedom to give
inherent deep within
our soul
without expectation -

unconditionally.

Joanne Olivieri (c) 2007


Joanne currently publishes the Ya'Sou! Online e-zine
which you can visit at:

Ya'Sou! Online E-zine

She also began writing a monthly feature column
for Raintiger Magazine, called "My Ode."
Click here to view:

My Ode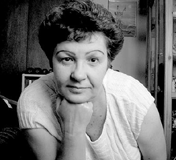 Joanne Olivieri is a gifted poet from California. She has been writing
poetry for over 30 years, and wrote her first poem in a 7th grade civics
class. She has published two chapbooks, "Red Lanterns" and "Serenity"
through Shadow Ink Publications. Joanne has received many awards
and commendations during her writing career. "Red Lanterns"
was named Poetry Chapbook of the year by Muses Review, and several
poems in that book were nominated for Poem of the Year by Muses
Review. She was the Featured Poet in the January 2006 issue of
SP Quill Magazine. She was Muses Review Author of the Week
in April 2006.


Awaiting Dawn

Where stars
bow their heads
in slumber
I drift off
contemplating
morning's birth.

Fog creeps
around me
above and beyond me
saturating my emotions
with a dull lullaby.

Darkness
whisks me away
into oblivion
the doldrums
of sleep.

My legs
my arms
my heart
restless as
a caged animal
the creative flow
hushed a goodnight.

Nocturnal scenarios
imbue my brain stems
dreaming fantasies
once lived
now revisited.

Apparitions
reincarnated
and sleep
is of the essence.
The crooning
Ms. Hummingbird
spews melancholy superlatives
waking the dead
back to life.

I rise
contented yet daring.
A walk on the wild side
is in order.


Joanne Olivieri (c) 2007



salt and pepper

I am
salt and pepper follicles
an antique framed
limited edition preserved
treasure
unique, among
the ebony and ivory
of life.

Hot flash induced
words spew humid opinions
and pirouette ageless grace.
My "cup runneth over" rants
accepted
respected
disguised as wisdom.

My shell travels South
my heart travels North
my words caught midriff
sans baggage.

Steppin out...
piano man
tickles my ivories with
rat - a - tat - tat
jazz boogie hands playing
the notes to perfection, never
tiring the rhythm.

Decaffeinated
java induced inspirations
flow freely
while I count pixels on
white paper canvases
desolate of words - the
emptiness of writer's block.

Daylight
bids farewell on the heels
of moonlight afterglow and
I reminisce quiet storms.

A day in the life,
back in the day
matters not.

It's the pepper and salt
to taste I have to offer
now.

Ah! Turning 50.

Joanne Olivieri (c) 2007


Joanne's Chapbooks:




"Red Lanterns" "Serenity"
by Joanne Olivieri by Joanne Olivieri


Click here to view Joanne's Shadow Poetry Page
and order her best-selling books:

Joanne Olivieri's Shadow Poetry Page